Sunday, March 29th, 2009
---
8:34 am
Well, I'm off tomorrow and I feel I am almost completely organised.
I don't know what flight, or any of the hotels I'm staying at, but I don't really need to. Ahhh, the wonders of going on a tour where everything is organised for you.

But I do have a brand new travel size computer - Asus EeePC - and an old friend down from Newcastle to accompany me, and new socks so I don't embarrass myself when I have to take off my shoes in Japan, and a selection of clothes so I can work layers between 0 degree and 20 degree weather to always be comfortable. Oh! And one of those cute little air plane toiletry packs.

Still need some plug adapters for power, a travel emergency raincoat and.... I'm sure there was something else.... I hope I think of it later today. *worry*

Anyway, off to brunch with TKE this morning, then it is all packing, organising and programming my HDD recorder to tape So You Think You Can Dance Australia for two weeks for the rest of the day. Maybe with a Nanna nap in the middle.

I need one of those.

All the muscles between my ribs and around my middrif ache from my Dressage lesson yesterday. My instructor has switched me from beginner horse, Ernie (pictured below) to serious dressage horse, Bert (no picture as yet) and is doing some serious work on my seat, posture, stillness, balance and communication. That means ouchie for all those core muscles.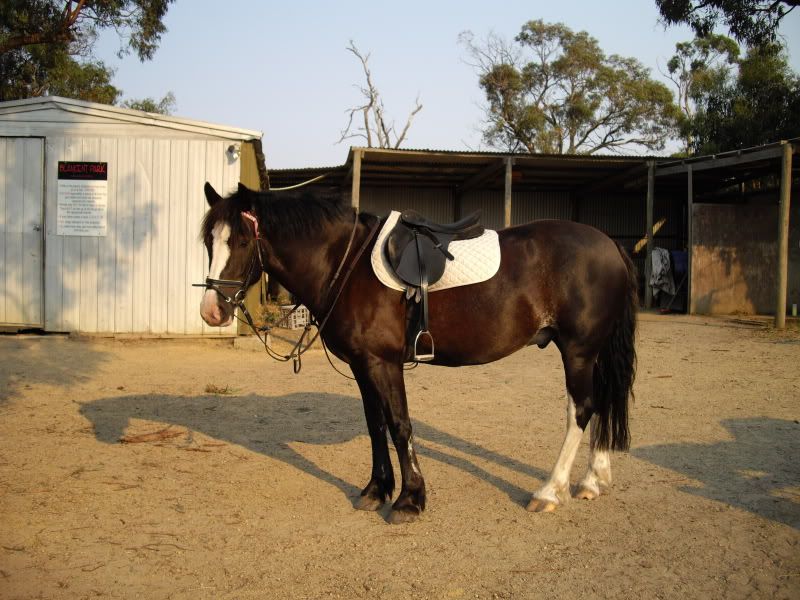 Friday, February 6th, 2009
---
9:44 pm
- trip meeting
I just wrote my first ever cheque on my first ever chequebook for my first ever trip to China and Japan.


It's like it's really happening now.

W00t!

I also got my first ever credit card so if I need more cash on the trip I can get it.

It's like I'm a grown-up or something.

weird.
Tuesday, August 12th, 2008
---
9:40 am
- Chocolate Rush
I actually managed to behave myself at a chocolate festival! Gasp!

Sunday was Chocolate Rush at the Convent at Abbotsford. It was a drizzly, not quite out-right raining sort of day, so I headed out with my friend and my umbrella and a big warm coat.

The Convent is a really lovely setting with lots of old buildings and pleasant gardens - although by lunch the grass had turned to mud. I pity the gardeners.

There were lots of stalls selling chocolate products like brownies and cookies and fudge, but also lots of others with wine and cider and cheese and pickles and jams and olive oil. All from local Victorian producers with lots of flyers to come and visit their part of Victoria for a weekend getaway. One of the best non-chocolate things I tasted was a mulled apple cider made on pink lady apples. The pumpkin and chicpea soup I had for lunch was very, very good also. There was also a very good mulled shiraz wine. I think they went down extra well because of the chill and damp weather.

There were lots of fancy chocolate producers in the trade hall. Some were better than others, and most had tastings of their chocolate. I decided to go around the whole place before deciding to buy some. I ended up getting some dark chocolate and grand marnier truffles, which were the most lucious chocolates I had tasted that day.

Probably the best thing about the day was the cooking demonstrators. Master dessert and pastry chefs cooking really yummy recipes. We saw made a brandied prune and milk chocalte mousse gateau, and a dark chocolate mousse dessert with rasberry marmalde and white chocolate crackles and dark chocolate crumble served in a cocktail glass, and the last one was the best.
The chef was making chocolate baba. He wasn't actually on the program for the day so his audiance was rather smaller than the others, but he passed around all the ingredients for us to smell and all the mixing bowls so we could get a feel for the consistency of the mix, and suggested recipe variations and it was just so interesting.

Next year, I want to go again, but next time I will pay to do some of the hands on classes. They were quite expensive, but seemed worth it from what we saw through the windows.
So despite the weather, it was a really fun day.
Monday, August 4th, 2008
---
10:26 am
- Horseriding lessons
Well, it has taken me fully a year and a half, but I have finally started riding lessons again. I went to a place near Frankston on Sunday. The private lessons are 45 minutes for 45 dollars, with an EFA acredited instructor. I liked my instructor and I liked the horse they had me ride. A black 15.3 hand clydesdale x american paint horse called Ernie. I bet he got his coat colour from the paint side, and his markings from the clydesdale side. He was solid without being heavy, and had lovely gaits, especially his canter. One of those gem horses that does what he's told without being too lazy or too high strung, and hasn't been ruined by bad riders. Worth his weight in gold.

As always, I have to start learning from scratch in the style this instructor teaches. That's ok. It is a challenge to leave what you know behind and learn in a new way. It keeps me thinking while I'm riding. That's why I prefer lessons to trail rides. But sometimes you just want to go for a trail ride too, and enjoy the greater outdoors beyond the arena, and just spending time with a horse instead of working with one.

Well, I have another lesson booked for a fortnight. I would go this weekend, but they have no spaces free at other times and I am already busy with something else at that time.
I might try to get to some other places too, to try them out. This place is an hours drive away when the traffic is good. It would be great to find somewhere closer, that sill had comparable rates. But the most important thing is that I like the instructor.
Sunday, May 25th, 2008
---
3:10 pm
- Dinner at Flower Drum
Wow, I suck. Not a single post since the last Dinner club dinner three months ago. Oh well. You get a real life and your online life suffers a bit.

Flower Drum was absolutely divine. Red carpet service all the way, from when they open the front door for you, to when they press the lift buttons for you, and check your coats and bags for you - very helpful in late autumn in Melbourne when you tend to wear more than three layers. There were five in our party this time. We were seated near a wall mid-dining room with a good view of the rest of the floor and the enormous and beautiful flower arrangements about the room. It is a lovely room.

A waitress set us up with water. I noticed she carefully inspected and discarded three glasses for having microscopic specs on them. We ordered cocktails from an old-fashioned list while we looked over the menus. I had a brandy alexander and it was one of the best I've ever had.

Eventually we decided on ordering individual entrees and then ordering a main each and sharing them - but the peaking duck pancakes ended up being their own little course in between. And they deserved to be too. The were outstanding. Throughout the meal we had never-ending cups of green tea, which I think is the best accompaniment for chinese food.

My entree was quail san choy bao which was light and spicy and delicious, though it made a mess, as the quantity was too great for the single lettuce leaf it was served on. I could have used three leaves. Every finger-food dish served throughout the night was also served with a wet cloth on a silver tray for each diner and, in some cases, a finger bowl of lemon water.

The mains we shared were really something. I ordered the honeyed pork spare ribs. The meat just fell off the bone and the glaze sauce was just perfect - not greasy at all. The beef in black bean sauce was made with eye fillet steak. Normally, I'd have an eye fillet an inch and a half thick and cooked blue, they are so good. But when you use a cut of meat like that in a stirfry it ends up being so tender it literally melts in your mouth. The sauce was delicate enough that it allowed the flavour of the beef to shine through.

Another dish our party chose was szechuan scallops. The sauce was wonderfully spicy and contrasted with all our other choices. The scallops were bordered on the plate by crisp fresh snow peas, lightly stirfried in the same sauce. The only thing that could have made this dish better is if they had left the roe attached to the scallops.

We also had some stirfried greens that included lotus, chinese broccoli, sugar snap peas, snow peas, shitake mushrooms, and oyster mushrooms. The last dish to arrive on the table was stuffed and tempura battered eggplant. This was a very delicately flavoured dish that I found a little bland and needed to add soy for salt, but the textures were wonderful. Normally this dish consisted of four pieces, but when it arrived, there were five pieces on the plate. One for each diner. They also had customised our peaking duck pancakes so we had two a piece. I was very impressed by this, as the quantities were altered without us having to ask to have it done.

We each also had a small bowl of steamed rice which, of course, was perfectly cooked.
All the portions were just the right size and between us, we emptied every plate.

And still there was room for dessert.

I ordered the toffeed apple and icecream. Four quarters of crisp apple, tempura battered and deep fried, then coated in toffee, served with a scoop of vanilla icecream and spun toffee. Yum, yum, yum!

The meal came out at under 100 dollars a head, incuding drinks and dessert, which somewhat surprised us all, as we'd heard that we'd need 150 dollars at least to eat here. We put in 100 each to give a bit of a tip because the service all night was impeccable, and left there very happy and very satisfied.
Sunday, February 17th, 2008
---
5:14 pm
- Dinner at Stokehouse
Friday night was the latest dinner for the group from work. Once every three months, we try out a restaurant that we normally wouldn't eat at due to the financial strain of the meal. We go there and we go to town. So far we have been to 100 Mile at Melbourne Central, and The Botanical across the road from the Botanical Gardens on Domain Road. Friday it was The Stokehouse at St Kilda.

We arrived at half past six, finding a park right outside, and climbed the stairs to find the dining room mostly empty. We were guided to a very spacious booth with orange apholstery against the back wall with a view across the dining room, over the balcony and down to the water. This was a fine location to sit because the setting sun only sent it's glare at us for about 30 minutes, while other tables had to endure it for hours.

I was very tired after a long week with a lot of late nights, but I was determined to enjoy myself... and I did. I began with a light Tasmanian bubbly, that was very refreshing and was not stintingly poured. After a tiny sip of my friend's cocktail I immediately ordered one of those. It was called a French Martini and was composed of Vodka, Chambord, lychee liqueur, fresh mint and pineapple juice. It was very scrummy and entirely too easy to drink. I think I'll procure the makings to shake some up at home.

My first course, of the specials menu, was risotto with scampi, blue swimmer crab and peas, flavoured with basil, and topped with a lemon creme fraiche. The delicate flavours were beautifully balanced and the texture was light and creamy. It was a wonderful, delicious start to the meal.

For main I had rag pasta with rabbit and shitake ragout, bacon, peas and truffled pecorino, accompanied by a side of green beans, snap peas and asparagus. The side alone, though simple, was superb. The fresh greens were lightly steamed to retain their crispness and they were seasoned with a mustard mascarpone that melted mouthwateringly over them. The hand made rag pasta was cooked aldente. The rabit was tender and not overpoweringly flavourned, but balanced nicely with the shitakes in a brown gravy-like sauce.

Thoughout drinks and the first two courses there was a selection of five grain sourdough and pana de casa slices available in the middle of the table with butter. We all let our table manners slide and used this gorgeous fresh bread to mop up the sauces at the end of our courses. It seemed criminal to waste such wonderful food - even if it was the last smear in the bottom of the plate.

Although entirely too full, I couldn't pass up dessert. I ordered the espresso creme brulee with dark chocolate mousse. It was absolutely mind blowing. So, so, so, so, devilishly good.

The staff were the best of any place we have been so far. The chairs were very comfortable, the view (once it stopped blinding you) was peaceful and relaxing, and the atmosphere was not at all overbearing and snooty. We liked the light fixture made out of old sheep fencing. It was very artistic. Overall it was a wonderful night.

Next time, The Flower Drum.
Sunday, January 27th, 2008
---
5:33 pm
Well, the holidays are over, my baby sister's come and gone, and I've been back at work three weeks. It takes a long weekend for me to find time to post these days. Karate started up last week, and tai chi the week before. I'm a bit stiff and sore from not working over the holidays and then going back in at full force. Plus yesterday I finally got back on a horse. So all those muscles that haven't been used since.... Easter? are all letting me know they exist today.

It was a very nice ride and a beautiful day. I don't think I can remember the last Australia Day with bad weather, but that may be selective memory at work. I was on the road at 8am because it would take one and a half hours to drive to Rye, down the end of the Mornington Penninsula, where the riding place is. I really wanted a beach ride and this place looked pretty good on the internet.

The horses were in very good condition for trail horses. Well fed with good fitting tack and not overworked. Many of them were half sisters and brothers because the owner used to own a clydesdale stallion, so they were all clydie crosses which make very good trail horses. The mare I rode was called Charlotte. She was the youngest of the clydie crosses at 4 years old and still fairly new to her job. She was an absolute sweetheart, and not too badly put together. I think her other half might have been stockhorse.

It was a 45 minute walk/trot out to the beach from the riding place on some scrub trails beside the road. The footing was mostly sand and it was very dusty, but soft. I got attacked by some trees, but not too badly. Then we had to wait in this sort of horse parking lot at the beach before we could go down there because only one group of horses is allowed on the sand at a time. Trouble is the group before us went on just as we got there, so we had to wait around for 20 minutes until they came back. It wasn't very well organised. It seem 3 riding places use this beach at the same access point and only one is allowed on at a time. Anyway, eventually we got our 20 minutes on the beach too. The horses were all very good and would paddle in the water if asked to. We got to canter a bit if we wanted to. Then we had to catch up some time on the way back, so it was mostly trot.

I got lost driving back, so it took longer than coming down. I just stayed on the Nepean Highway and Point Nepean Road all the way down. I tried to take some freeways on the way back and got lost somewhere around Braeside but eventually found Clayton and got onto Dandenong Road near Chadstone.
Wednesday, January 23rd, 2008
---
9:17 am
- Oh no!
Heath Ledger is dead!? I was really looking forward to seeing him as The Joker. I thought he would have made a great Joker... possibly even better than Jack.
Thursday, January 3rd, 2008
---
7:47 pm
New Year's Day, being New Year's Day and having had a very fun New Year's Eve, we never did make it to the drive-in. We were good though, for my sister and I went for a good long walk in the cool evening air.

The next day we went to see The Bee Movie, but my beef stroganoff took longer than I thought it would to cook, so my two sisters and I ended up going to see the film showing fifteen minutes later, which just happened to be Enchanted. And this was a good thing because we all loved it. Those cockroaches did a remarkably good job on the bathtub, and the rats cleaning the toilet were so cute with their little scrubbing brushes. It is a very satisfying piece of Disney fluff.

Today I met a couple of friends from my TAFE course for tea in Morpeth at Tea Lovers and Coffee for Others. Such a nice little shop, but we decided to sit outside so we were fighting off the flies and the sparrows. I wish the sparrows would eat the flies instead of hanging around for crumbs. They were prepared, though... there was a roll-on Aeroguard in the centre of every table. Only trouble there is you can't roll it on your food, and the reek of it somewhat ruins the taste of the tea. After that we went around to the alpaca products shop and the sparkly things shop. I bought two sparkly hair clips to wear to work.

After that I stopped home for a quick lunch before going shopping with my sister-in-law. We've never really spent time alone together, so it was very nice. We were on a mission for cheap christmas things to be used next year and for stuff that was on sale in DJs so she could use up her two gift vouchers that were about to expire.

Tonight I really should pack, but I think I'll leave it to the last minute tomorrow morning before flying out. I'm taking my youngest sister with me so she can have a week long vacation at my house. We're gonna have fun.
Monday, December 31st, 2007
---
10:38 am
- Golden Lights? Northern Compass?
I had a wonderful christmas. I still am. I went to see Northern Lights... wait... The Golden Compass on... Well, it was a few days ago. I have no idea what day it is today, either. I'm having a really, really good holiday.

I kind of liked the movie. Perhaps I got more out of it, having read the books, than my sister did - but she's decided to read the books from seeing the film, so that's a good thing. I think they did the daemons really well and the fighting bears were really good, but not really inhuman enough. They did their best to distance the Magesterium from anything resembling a church which may get confusing later on when Azriel takes on god...

Over all, I think they've made it work very well as a movie. They incorporated many elements of the books. I'm just very glad that I read the trilogy first.

Tonight I'm having dinner with friends and then I'm coming home to party with my siblings. We are going to get drunk and watch movies and play sing star and guitar hero very loudly, and watch the fireworks in Sydney on TV.

Tomorrow we're going to the drive-in to see Mr. Magorium's Wonder Emporium.
Sunday, December 23rd, 2007
---
10:54 am
I've had an absolutely delightful week. The Acquisitions christmas lunch went rather smoothly despite some emergencies the restaurant was suffering, and I think everyone very much enjoyed the food. Half of us had gone there the night before for happy hour drinks... in fact I went there the next night for drinks too. The Manager must think I'm going to move in soon.

I met
sweet_minstrel and
jchakotay there for drinks and to see each other for Christmas before I jumped a plane home, then we wandered around the CBD just looking at stuff. It was a very nice evening, considering 4 hours earlier the sky was black and dumping curtains of rain and threatening to hail.

Next day I was on a plane. The baggage chuckers didn't manage to break any of the glass presents in my check-in luggage, and the flight ran on time and I had an empty seat next to me on one side and the ilse on the other so I was most comfortable. I read half of Neil Gaiman's latest book for kids, Interworld. Finished it this morning. I really liked a lot of the ideas in it and many of the lines were very clever. For something that was first visualised as a serial TV cartoon for kids, it works quite well as a book. It does have a real "first episode" feel to it, though. They could easily turn it into a series.

Had drinks at my Grandfather's that evening, followed by a very humid and lazy day yesterday. I just about died... or melted as the case may be. I kept begging for airconditioning, but was not allowed to turn it on until the house filled up with 20 people for dinner. My Uncle was up from Sydney just for overnight, so the family had to put something on for him. One of our BBQs that we do so often they work seamlessly like clockwork.

Today I might cruise the vineyards with
aspectsofathos, or I might go for a drink with my sista in Newy.

2 sleeps til christmas!
Wednesday, December 12th, 2007
---
9:58 pm
- The danger has passed...
It's safe to come near again. My tupperware party was last night. It was a really good night, with some friends from work and my flatmate attending. I cooked dinner for all and it went over really well. One of my guests brought a really nice drop of bubbly and at the end of the night we'd racked up enough sales to get me a free saucepan - and tupperware has brought out some really, really nice saucepans. I finally got to bed at 2am, then got up at 7:30 to go to work. There, I went to another party, also with a nice drop of bubbly, and a rather good red... Imprint. Shiraz. Yum (made by Mitchelton Wines in Nagambie, Vic.). I think I'll have to track a couple of bottles down for myself. There was so much food left over that I went and got my lunch box before I left and filled it for lunch tomorrow and Friday. I'd have never thought of that in my fuzzy state if the catering staff hadn't suggested it. Good idea, though.

I just this hour finished reading an excellent faerie story. Holly Black, half of the Spiderwick Chronicles team (movie due out sometime around April), has written (so far) three riveting books set in Faerie, New York and New Jersey for older teens and young adults. Tithe, Valliant and Ironside are part mystery, part action/adventure and part fairytale with a hefty dose of gritty-angsty-emo thrown in for good measure. She pulls the endings together in the same way Diana Wynne Jones always manages to, twisting the plot at the last minute so things turn out alright, or with some clever reveal. They've got everything a good fairy tale has... murder, mutinous plots, revenge, quests, monsters, torture, sex, wild parties, duels, heroes and villians, true love... sometimes all at once.

I really, really like these books and I hope she writes more. But perhaps what I like most is all the pretty, supernatural boys. Yeah. That could have something to do with it.

My other flatmate is leaving us this weekend and the new guy is moving in. All pretty seamless, actually. We're going out for a farewell lunch on Saturday. I'll miss him. He was easy to live with and didn't mind me taking the piss now and then (though he gave as good as he got). I hope the new guy works out as well as he did.
Saturday, December 8th, 2007
---
10:18 am
- Double Death Note
I had to skip out on tai chi on Thursday. The Astor was playing a double feature I didn't want to miss. The two live action movies of Death Note. I had enjoyed the anime immensely and was interested to see how it translated.

I'm not a big enough fan to have read the manga - only because I haven't got my hands on it and my backlog of things to read will take me to Christmas 2008 - but I thought they did a fairly good job of shrinking down the story line to fit into two movies. They cut out the whole arch with Near and Mellow and fused a few other characters into one and somehow got L to outlive Light for a time, but it all worked quite nicely.

The Shinigami were extremely cartoony and quite often eye lines didn't quite match (which is hard anyway because Ryuk has a lazy eye), but at least they were 3D.

The best bit was all the really bad acting as people dropped like flies from heart attacks. It had the audience rolling in the isles. Somehow, this only made the movie better.

I'd definitely see it again given a chance. I didn't mind missing tai chi at all.

Besides, I'll be doing some on the beach tomorrow morning, so I don't feel I'm missing out too much.
Saturday, December 1st, 2007
---
2:02 am
- I'm going to have to start taking a camera to dinner....
I just had a very, very wonderful dinner at Botanical with some friends from work. http://www.thebotanical.com.au/

It began with a champagne cocktail in the bar before our table was ready, a Botanical Sin Fizz. Light and fruity and very decent for $10 happy hour cocktail.

We were among the first diners of the evening at 6pm. The service was attentive, without being intrusive. I ordered a glass of NV Henriot Brut Souverain to keep me entertained while browsing the menu. The first sip had my eyes rolling back in my head with pleasure... something that turned out to be a common experience throughout dinner.

For starters I had the Gormand's Salad from the specials list, a sample plate including foie gras, truffle, garlic butter, quail, green salad, marinated cherry, truffle toast, a baby gerkin, and some kind of prosciutto type meat that I forget what it was, but you don't have to know what it's called to enjoy it. It has been so long since I had a real truffle that I had forgotten how good they were. The eyes rolled back again. I think the last time I was quite young and I was given only a taste. Do not give truffles to children. They can't appreciate them fully, and they are too good to waste.

My main was from the regular menu, Miso caramelised Patagonian toothfish with tempura oysters, native lime & wasabi dressing. I don't think I need say much more than that. It was good. Really good.

I was so satisfied with those two dishes, all I needed to round out the meal was a coffee. I have made a plan to go back just for dessert another time. The ones being brought to other tables looked too good to miss entirely.

It will be a while before I dine there again. It is definitely a "special treat" type of place, but worth every penny. Maybe I'll get my dad to take me there when he comes to visit.
Tuesday, November 27th, 2007
---
6:52 pm
- passing over to the dark side.
It has happened. I am hosting a tupperware party in a fortnight.

My evil workmate invited me to hers last weekend. I needed some stuff, and now, like some kinda drug junkie, I can't get enough. And worse, I'm trying to addict my friends, too. They have saucepans! I need saucepans! And plastic lids that burp!

All the stuff that my mum has is still available, but in different colours with strange names.

Don't come near me 'til it's all over. It isn't safe. It's contagious.
Tuesday, October 9th, 2007
---
8:39 pm
I lead a tour of the library today. Tomorrow is the first day of the ALIA library technician's conference. Most of the participants arrived today for some pre-conference stuff and a tour of the State Library was one of the things on offer. There were four tour leaders taking groups around to a time table, with Digitising the only thing we really had to be on time for. That was the third stop on my tour, so I had to rush through the first two things a bit. Unfortunately, the first two things were the Dome exhibitions and the Cowen Gallery. The two most interesting parts that I wish I could have spent more time on.

Anyway, we made it to Digitising three minutes late... not to bad considering the distances we had to cover. There I got to give my voice a bit of a rest while one of the librarians who works on ditigising images for the pictures catalogue and archive gave a talk on what it is she and her department do. I wouldn't mind working down there if I wasn't in acquisitions.

The rest of the tour didn't take anything like the time that was allocated to it. I found myself having to invent extra things to explore to fill in the time. One of the guys on the tour helped out by requesting to look at the Document Supply department, so we went down there and they got to see the large and impressivie (and expensive) document scanner that is used to copy things for inter-library loan.

Well, they all told me they really enjoyed the tour, and they could tell how much I love working at the library, so that's a good thing, even if the timing was off. I'll get better with practice, too.

Tomorrow I am attending the conference on one of the library's shared passes. I'm really looking forward to it.

Last night I tried out a karate school. I finally got off my butt and did something about it. Sheeh! It's only been TEN MONTHS! The warm-up just about killed me. I'm so out of shape. I really liked the feel of this dojo. The other students were really nice and I like the sensei. It's also really close by. On the down side, the classes are a little expensive, and they don't do any weapons. Seeing as katas, weapon katas and sparring are my three favourite things about karate, that's a real problem for me.

I'm trying a different school tomorrow night. They do sai, bow, short sticks and nunchucks. The cost is about the same. I'll have to talk to them about how their grading system works, and also get a feel for the place and the other people in the group.

As for now, I'm a little stiff and sore, but not too bad. No major bruising, but there are some tender spots. I'll loosen up in the warm-up tomorrow.

I also called up a iaido and jodo dojo to see if I could come and check out their school. Iaido looks really cool, and I've already done some jodo back at my Lake Macquarie dojo. I got voice mail, so I'll wait for them to get back to me.

"Jodo Dojo" is really fun to say.

So is "Amuck"

Amuck, amuck, amuck, amuck, amcuk.
Sunday, October 7th, 2007
---
12:52 pm
I'm having the laziest weekend ever. Gave me a chance to do my nails, though. I burned a copy of season 1 of Heroes on DVDs for my flat mate who missed it. I am evil. He's now sleep deprived from watching 14 episodes in a row. He's going to have a hard time waiting for one episode a week when he catches up to season two. I've lapped up the first two episodes, and waiting for number 3 on Tuesday.

I took a trip to Brunswick to have a look around a martial arts supply store. They had a nice collection there of tai chi swords. My teacher is starting me on a sword form on Wednesday, along with four other memebers of the class. Anyway, I fell in love with the first sword I saw, but looked at all the others too. None of them came close. Of course, it was the most expensive tai chi sword in the shop. They've said I can do a layby on it, so I might start that next week. I'm just waiting to hear back from the Victorian Police Liscensing place for some clarification on the weird sword laws they've got in this state.

I'm cooking a big meal of bangers and mash tonight because my flat mate has never had it before !gasp*shock!!! How do you go through life without ever having bangers and mash? Before that, though, I might trot on up to the Astor to see a double of The Wizard of Oz and Willy Wonka and the Chocolate Factory.
Sunday, September 30th, 2007
---
7:55 pm
- Death by Sashimi
Yep. I'm dead. I had the best sashimi of my life for lunch on Friday. A few people from work went along with me to Shoya in Market Lane. We sat at the sushi counter and, not bothering with such things as menus, allowed the chef to decide what to feed us. The first thing he fed us was this: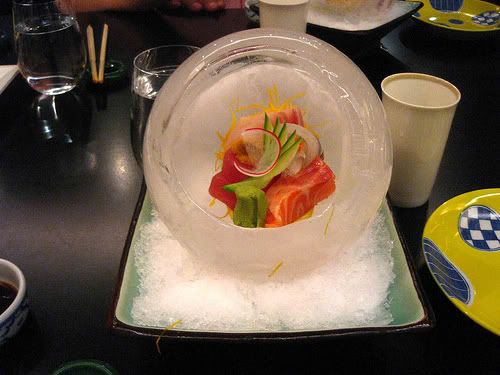 Heavenly blue fin tuna, melt like butter salmon, king fish, sea urchin roe, a little piece of gold leaf served in a pretty little ice globe. Noice.

Then he fed us a fresh, plump tasmanian scollop, lovingly wrapped in seaweed and enclosed in light, delicate shredded filo pastry looking like so much gold spun from straw and melting the second it touches the tongue.

Then came the sushi, four beautiful pieces made before our eyes. Tuna topped with gold, salmon topped with pump salmon roe, scampi topped with kazunoko and king fish topped with sea urchin roe.

And so I am dead. But it was worth it.

I was ressurected sometime on Saturday, possibly by the combination of irish stew, the latest battle facing the guys from Bleach and my Godson's sonic attack, so today I could go to see the Pixar exhibition at ACMI.

It was faboo! Anyone in Melbourne who hasn't seen it yet should get their act together and get to Federation Square ASAP! Worth every cent of the $15 entry fee and more and I got a show bag! Then I bought an Edna Mode notebook from the gift shop that has a little Edna on every page.

Wonder what I'll get up to next weekend? No plans yet. But I think I'll see Rush Hour 3 on Tuesday.
Sunday, September 23rd, 2007
---
6:34 pm
- Rather goodish party.
The Sister-Whose-Glare-Can-Kill-At-50-Paces is all happy now and hardly glares at anyone so she needs a name change. I will call her The Sparky Sister, because she has an electrical aprenticeship at BHP, and that's part of the reason she is happy now.

Last weekend I flew north for The Sparky Sister's 21st birthday party. My bag was full of ingredients bought at one of Melbourne's superior asian supermarkets that stock stuff they haven't even heard of in Newcastle. It was my job to make the sushi, and for the first time, I didn't have to substitute or improvise anything. It was appreciated too. I had to fend people off with a big knife to get the rolls onto the serving platter, then it barely made it out of the kitchen with anything left on it. Aparently my sushi was being advertised for the party a week before I was told I'd be making it and it was much anticipated.

It was a great night, kicking off at 7pm and going through to 4 in the morning. All my aunts, uncles and cousins were there, plus The Sparky Sister's old friends and new friends she's made at work, and Athos got a last minute invitation as well because he used to get the bestest glares before she got happy.

Besides my sushi there was yummy home made banana birthday cake with lemon cream cheese icing, 6 discs of sing star, mum's coveted cheese puffs, table tennis, The Sparky Sister's famous baked spring rolls, darts (where the drunkest person has to put their hand on the board while the second most drunk person throws the darts), 3 cases of caronas, 2 cases of other beer, 3 bottles of bubbly, 6 bottles of red (all very good), and a couple of blender's worth of margaritas. And then there was this. (Actually, this happened a while ago but was reinacted at about 1am.)

Despite all that, nobody got really sick, badly injured, or even particularly severely hungover. None of the furniture was broken and there were no crashers. The mess was cleaned up by noon the next day and all the bottles got taken around to our relative's recycling bins. There were only four recycling bins worth of bottles.

Athos and I headed out to check how Piggs Peake was getting on after lunch. They're getting on so well all the good shiraz is sold out and it was only released in July. So I picked up a bottle of port and a Wolfie Zinfandel and a House of Bricks Cab Merlot which has been voted best Cab Merlot of the year. Or something like that. If you happen to see a recent copy of James Halliday's Australian Wine Guide lying around, look up Piggs Peake. They managed to get an imaginary winemaker printed in it the last few years running called "Hugh Jorgen". Steve (the actual winemaker) is a crack-up.

This weekend began with a viewing of Stardust. I'll most likely see it a couple of times more. I really liked it, even thought they missed out the cleverness of how Tristran's mother gains her freedom, but I like the addition of Captain Shakespeare. Very endearing.

I just got my hands on a copy of The Dark is Rising so I can read it before I got to see that film. I've also got a copy of Northern Lights waiting for me before I'll let myself watch The Golden Compass. I just love that all these wonderful fantasy books are getting turned into films. Does make them difficult to borrow from the library, though.
Monday, September 10th, 2007
---
8:11 pm
Well, it looks like I won't be a horse owner anymore this weekend. The lady leasing Jay has told me she is ready to buy him. It still doesn't feel real after all this time.

Also on the weekend is my little baby sister's 21st birthday party, making me officially old. I'll be spending most of that day making sushi and most of that night eating it.

Last Friday I went out for dinner with a friend from work. We are both foodies and we've decided that once every couple of months we are going to go out to a really good restaurant and damn the expense. This, of course, is an open invitation to anyone else who loves good food and doesn't mind paying for it to tag along. Friday night we went to 100 Mile Cafe upstairs at Melbourne Central to see what it's all about. I had the roast duck accompanied by a very nice drop of local shiraz followed by a lavender semi-freddo with poached rhubarb and a very decent cappuccino. Who knew coffee grew in Australia? Well, I might have guessed, but I wouldn't have guessed it would be much good.

I took my Godson and his parents for a ride in Mr Bitchy so we could all do our groceries together on the weekend. He was a little grumbly, but behaved very well, and we all fit in with the car seat and the groceries and the people in my itty bitty car, making his suspension groan a bit on the corners and speed bumps, but it all worked.

Apart from that I went for a few walks in the glorious spring sunshine and bought the last installment of White Tiger which I think is Tamora Pierce's first attempt at comic book writing, and finished watching Bakumatsu Kikansetsu Irohanihoheto, which was kinda cool and a little confusing because I don't know my late 19thC Japanese history. I think I'll watch Witch Hunter Robin next.